Greetings, loyal readers of the Brandon blog! Today, we're excited to share the fantastic experience we had during Goodwill Distributor's inaugural visit to our Guangzhou factory. This visit marked the beginning of what we believe will be a promising partnership.
Background on Goodwill Distributor
Established in 2001, Goodwill Distributor stands as a prominent importer and distributor of commercial kitchen equipment in Thailand. Their distribution network extends to a diverse range of establishments, including small and large restaurants, bakeries, supermarkets, pizzerias, hotels, and even government sectors.
Goodwill Distributor's interest in Brandon's exceptional products was sparked by a recommendation from our esteemed Hong Kong distributor, Steven Yang from Oriental Engineering (OE). This marked the initiation of a connection that led to their enlightening visit to our Guangzhou factory.
Oriental Engineering (OE) is one of the oldest and largest distributors in the region. With close to 110 years of operations, the company remains under the management of the founder's family, showcasing their enduring commitment to excellence. With a wide range of products represented, including Taylor, Menumaster, and Brandon, OE remains at the forefront of delivering top-notch solutions to meet the diverse needs of their clients.
The Unfolding of the Visit:
Day One: Unveiling the Manufacturing Excellence
Our team took them through our state-of-the-art manufacturing process, showcasing the precision of our machinery. With the impressive Salvagnini panel bender and an array of laser beam welding robots, our factory left a lasting impression of advanced technology and quality craftsmanship.
Day Two: A Culinary Journey of Taste and Performance
The second day was a true delight as we embarked on a culinary journey together. Our computer-controlled fryer and noodle cooker took the center stage.
Under the guidance of our experts, we demonstrated the magic of our fryer with a batch of golden French fries. The process was meticulously crafted: blanching the fries at 325°F for 3 to 4 minutes followed by frying at 400°F for another 3 to 4 minutes. The result? Crispy, aromatic fries that left an indelible mark on our guests.
Key Highlights from the Visit:
Versatility in Powering Methods: Pitcha, the manager of Goodwill Distributor, expressed enthusiasm for our equipment's versatility in power sources. With electric and gas options, including compatibility with propane and town gas, our fryers can cater to diverse global needs.
Gas Fryers' Performance: The team was particularly impressed with our computer-controlled gas fryers. Through a thorough testing session, we showcased the seamless operation of our gas fryers, capturing their attention and confidence.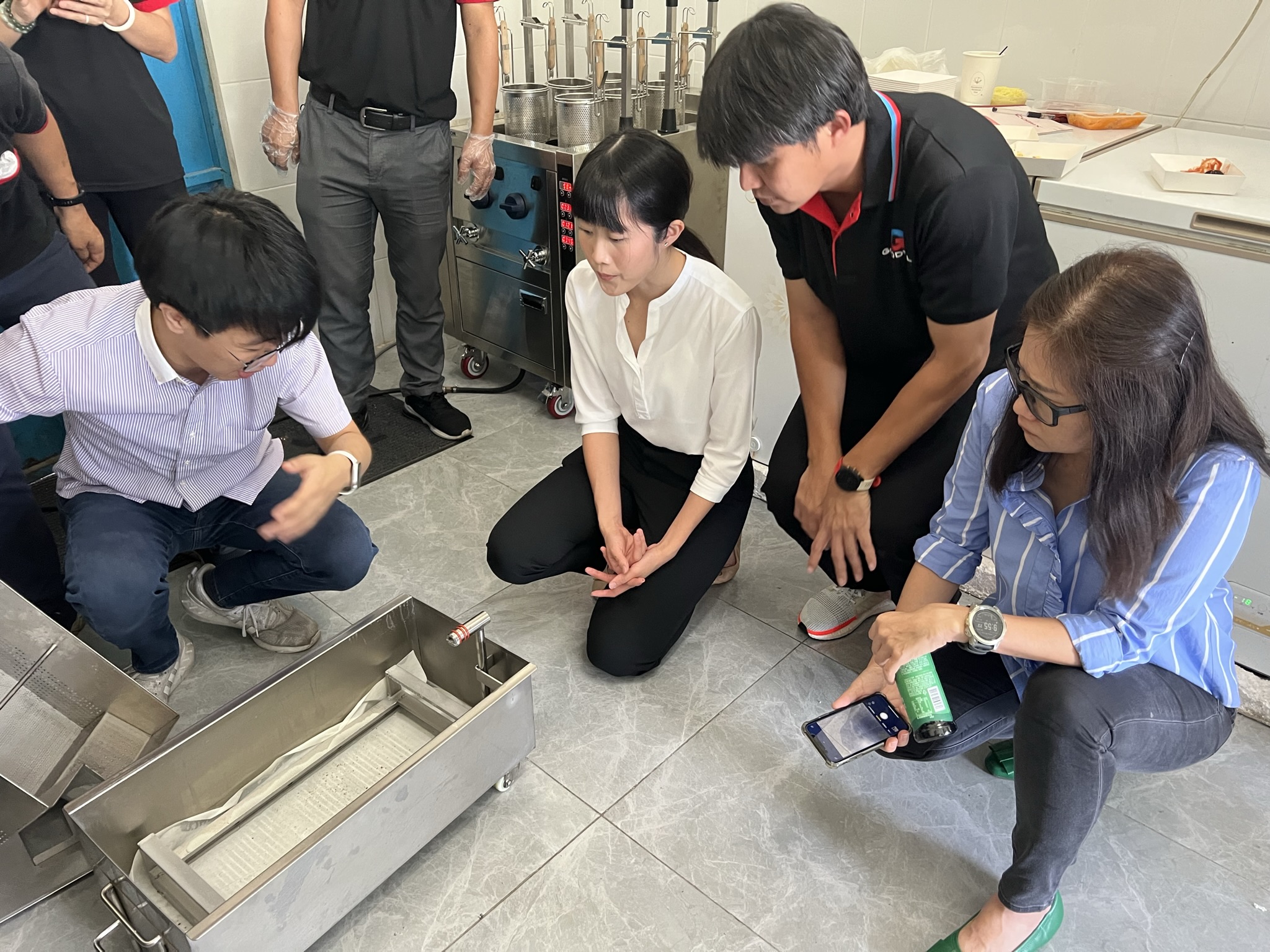 Personal Touches
The visit wasn't just about business; it was about forging connections. A shared love for sports emerged as a common ground. Patida, a half-marathon runner and Goodwill Distributor's sales manager, connected with Somrit, the owner, who is an avid cyclist. This sparked conversations about Thailand's stunning landscapes and outdoor activities.
A delightful coincidence occurred when Brian Chan, Brandon's owner, revealed his passion for running and scuba diving. This ignited a discussion about the picturesque beauty of Phuket. Somrit extended an invitation to Brian, inviting him to Thailand for trekking and cycling adventures.
Shared Academic Background
Beyond the realm of business, the visit between Goodwill Distributor and Brandon was enriched by a shared academic foundation in STEM disciplines. This common thread wove a mutual language through which our products could be discussed and appreciated from a technical standpoint.
The confluence of engineering expertise was striking.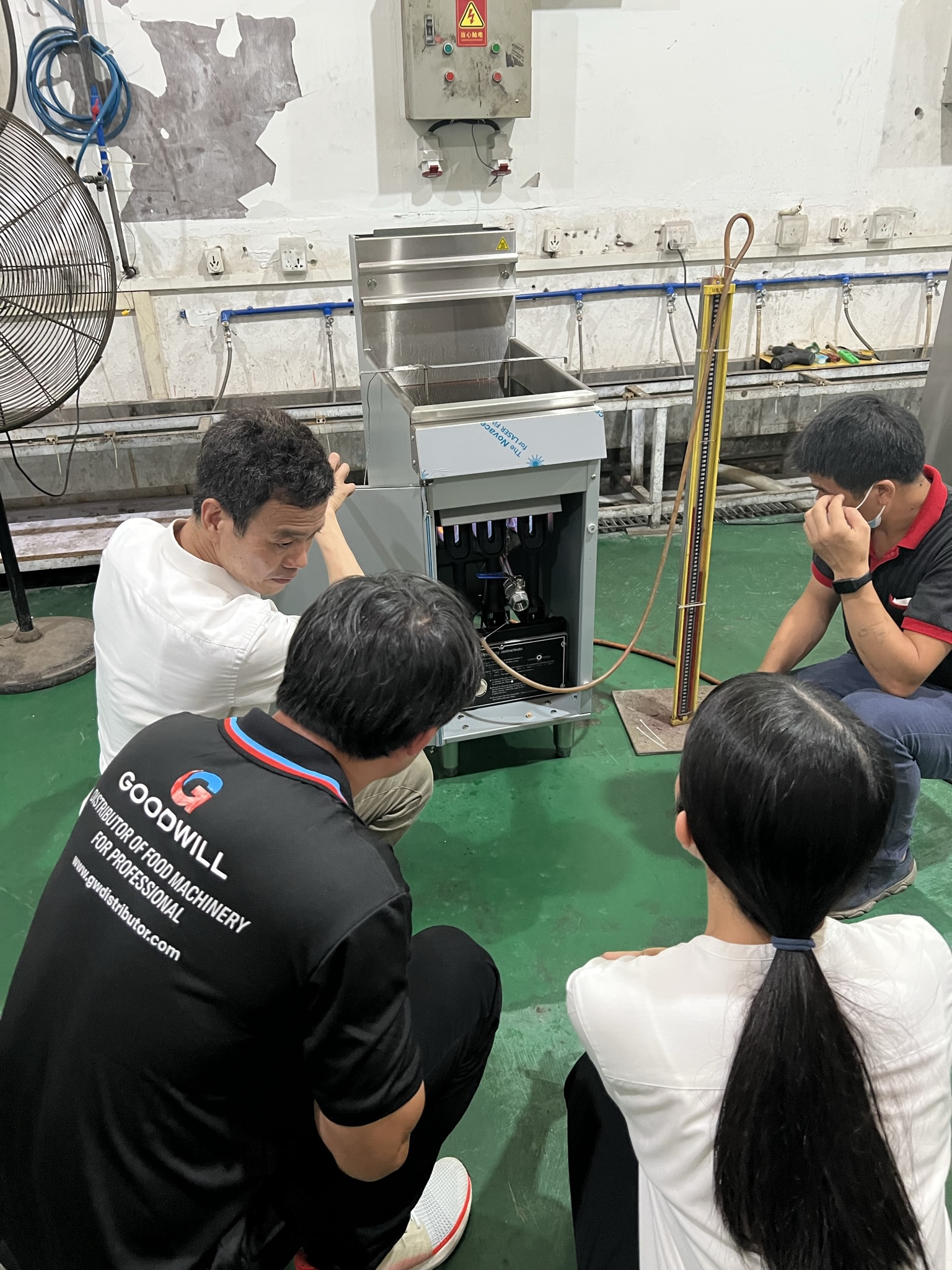 Somrit, the visionary behind Goodwill Distributor, holds a master's degree in Mechanical Engineering, which underscores his profound understanding of mechanical systems. Pitcha, his daughter and a key figure in Goodwill, boasts a bachelor's degree in the same field, further accentuating the family's technical acumen.
On the Brandon side, our alignment with STEM principles is evident through Brian Chan, the company's owner with a Bachelor's degree in Mechanical Engineering, coupled with an MBA. Harvey Chan, Brian's son and a manager at Brandon, has leveraged his Bachelor's degree in Computer Engineering and MBA to contribute to the company's multidimensional growth. Even I, Hays Chan, Brian's son and a software team manager at Brandon, carry a Bachelor's degree in Computer Science, enabling me to fuse technological innovation into our offerings.
Notably, our Hong Kong distributor from OE (Chinese name: 華捷洋行), Steven Yang, brings his Bachelor's degree in Electrical Engineering to the mix, substantiating the technical underpinnings of our collaborative efforts.
This academic connection facilitated not only insightful product discussions but also fostered a deeper rapport as we delved into shared passions beyond the industrial realm. The intersection of technical prowess and personal interests created an atmosphere of camaraderie, echoing the potential for fruitful collaboration that lies ahead.
Future Ventures
As the visit concluded on a high note, the promise of collaboration beckons. Brandon is all set to send sample products to Goodwill Distributor, a step that marks the beginning of a journey towards a fruitful partnership.
Stay tuned for more updates on this exciting chapter of collaboration between Brandon and Goodwill Distributor. We're thrilled to be embarking on this journey together, driven by a shared passion for quality and innovation.