Brandon has been making Commercial Electric Fryer (Deep Fat Fryer) since the year of 2000. As a fryer manufacturer, we would like to sum up our experience for the benefit of the trade of restaurant and hospitality. Today, I will focus on upright (free standing) electric fryer first.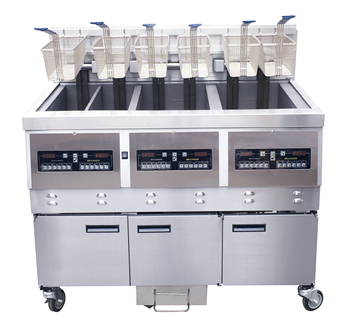 Recovery Time
The fried quality of food depends to a large extent on the time to recover. Please note that this is different from food safety. From the perspective of food safety, as long as the food is well cooked and not contaminated during the frying process, the cooked food is considered safe. Safe food, however, does not necessarily mean well fried food. If it takes a long time for a fryer to recover to the set temperature (say 175 deg C or 347 deg F), the food tends to be oily on the surface. Recovery time affects different food in different scale, and French fries crispiness is mostly affected by fryer recovery time. As a rule of thumb, if it takes more than 2 minutes 15 seconds for the fryer to reach the set temperature, the French fries being cooked tends to be not so crispy. What are the factors that affect the temperature recovery time of a commercial electric fryer?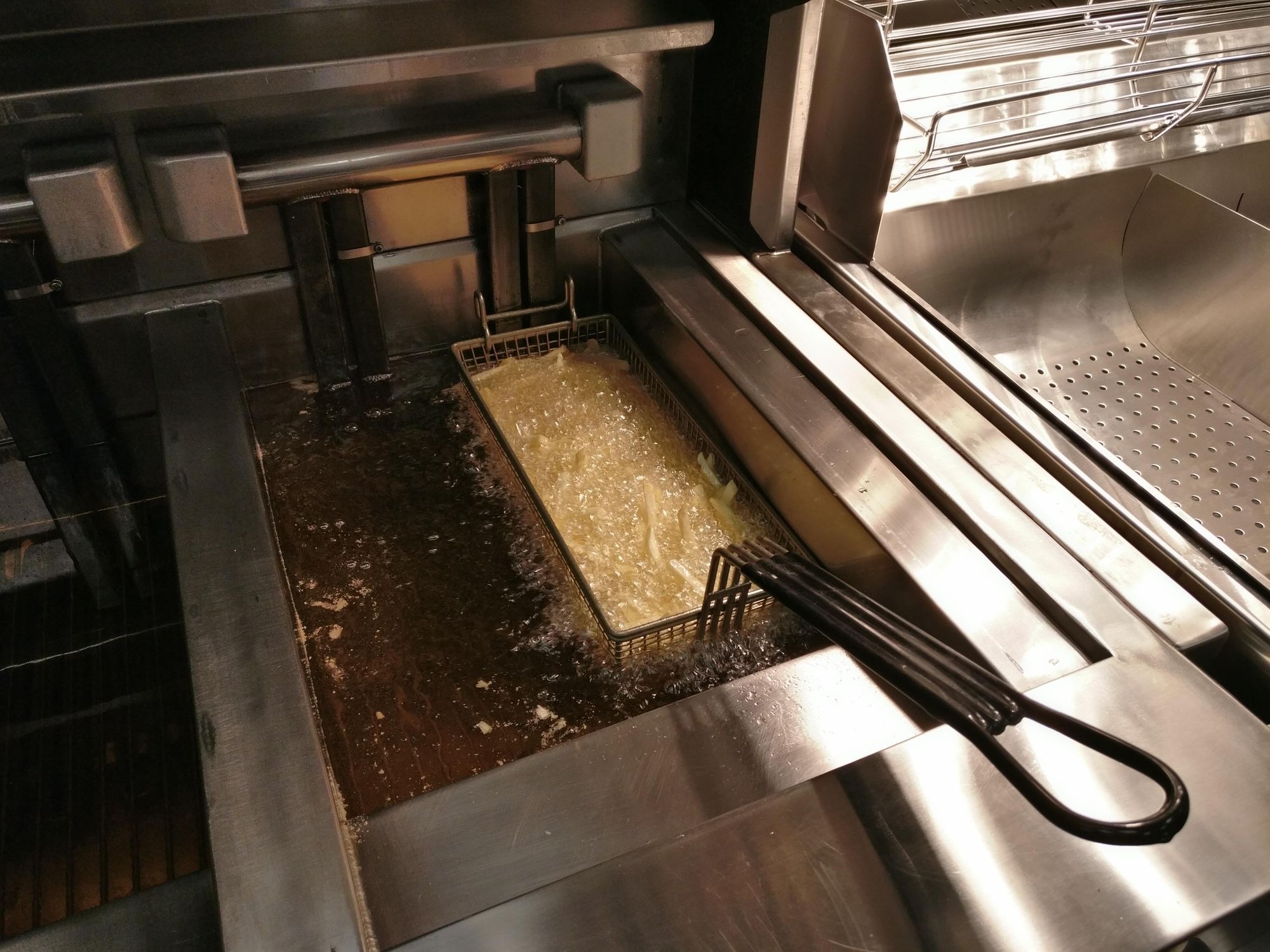 Power of Electric Fryer:
Power remains the most important factor. The higher the power, the faster the recovery of fryer. For an upright commercial electric fryer (free standing deep fat fryer) of vat capacity of 22 liter to 28 liter (40 to 50 lb), the power is generally 18 kW. In other words, one can look at a vat-capacity-to-power ratio at 1.4 liter/kW or 2.5 lb/kW for the best food quality.
Does High Power Mean More Energy?
As a fryer manufacturer, we received a lot of inquiries about the relationship of power and energy used. You may be surprised but an electric fryer (Deep Fat Fryer) with higher power does not consume more energy than one with lower power. All electric fryers (Deep Fat Fryer) come with a thermostat. A fryer with higher power consumes energy more before the set temperature is reached (thus more energy in initial stage), but it takes shorter time to reach the set temperature (thus less energy in later stage).
In the end a high power fryer consumes the same amount of energy as one with lower power. An analogy is that one need to walk a mile in 16 minutes, but jogging takes only 10 minutes; in both cases, you consume more or less the same amount of energy.
Electric Fryer Cold Zone
Cold zone is the area where oil temperature is comparatively lower than oil in the main vat. Oil in the cold zone is not really that cold. Let's take a look at the sectional view of fryer vat, Food crumbs tend to, by its weight or the convection current of oil (swirl), fall into the cold zone and can never climb back to the vat. This way crumbs from previous cooking cycles will cause less contamination to the new food.
The drawbacks of cold zone are that the vat has a larger volume than one without it, so electric fryer with a cold zone consumes a bit more oil than one without. Over the last few years, there has been a trend in the trade of fast food restaurant to use a fryer without cold zone; electric fryer as such is called "low oil volume", or LOV fryer. (As a footnote: Brandon makes both types of electric fryer).
Ease of Oil Filtering
The drain valve of any upright commercial electric fryer need to be in line with international filter carts, otherwise oil draining will be a big inconvenience. The height is roughly 340 mm (or 13.5"). Modern fryer has an option to include built-in filtration system which is a reduction in footprint.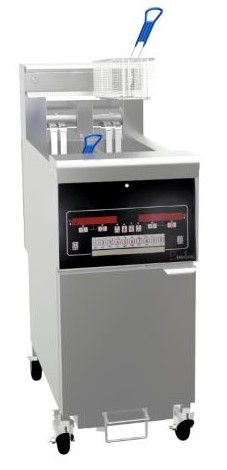 Contact Our Sales Team
If you are interested in our commercial electric fryer, please do not hesitate to contact our sales representatives through email sales@brandonequipment.com.
Other Commercial Fryer
Feel free to check out our full electric fryer product catalogue and other commercial fryer product by clicking the following.